---
Early life and studies
Alexander Fleming was born on a farm Lochfield in Ayshire in Scotland on 6 August 1881. He had seven siblings with which he spent a lot of time ranging through the streams, valleys, and moors of the countryside. "We unconsciously learned a great deal from nature," said Fleming.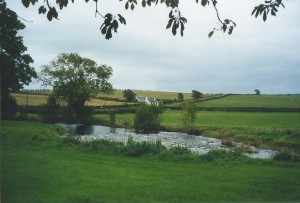 "Alec" as he was called was attending Loudoun Moor School and Darvel School, and earned a two-year scholarship to Kilmarnock Academy. Then, When he was about 14, he moved to London and went to the Polytechnic School in Regent Street. After completing school he was employed by a shipping firm, though he didn't much like it.
In 1900, when the Boer War broke out between the United Kingdom and its colonies in southern Africa, Alec and his two brothers joined a Scottish regiment. This turned out to be as much a sporting club as anything; they honed their shooting, swimming, and even water polo skills, but never went to the Transvaal.
Soon after this, the Flemings' uncle died and left them each 250 pounds and so in 1903, Alexander enrolled at St Mary's Hospital Medical School in Paddington. He lived equally close to three different schools, and knowing little about them, chose St. Mary's because he had played water polo against them. In 1905 he found himself specializing as a surgeon, but if he took this position, he would have to leave St. Mary's. Sir Almroth Wright, a pioneer in vaccine therapy and immunology and also the captain of St. Mary's rifle club knew that and was desperate to improve his rifle club. Knowing that Fleming was a great shot he did all he could to keep him at St. Mary's. He worked in the Inoculation Service and he convinced Fleming to join his department in order to work with its brilliant director -- and to join the rifle club. Fleming would stay at St. Mary's for the rest of his career. He gained a BSc with Gold Medal in 1908, and became a lecturer at St Mary's until 1914.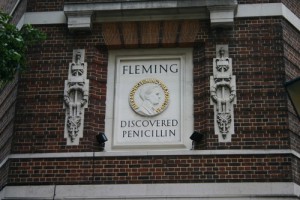 Fleming served with many of his colleagues throughout World War I as a captain in the Royal Army Medical Corps, in battlefield hospitals at the Western Front in France. On 23 December 1915, Fleming married a trained nurse, Sarah Marion McElroy of Killala and in 1918 he returned to St Mary's Hospital, where he was elected Professor of Bacteriology of the University of London in 1928.
Ludmila Chrástecká