---
Honours, awards and achievements
The discovery of penicillin had changed the world of modern medicine by introducing the age of useful antibiotics; penicillin has saved, and is still saving, millions of people around the world.
Fleming, Florey and Chain jointly received the Nobel Prize in Medicine in 1945. According to the rules of the Nobel committee a maximum of three people may share the prize. Fleming's Nobel Prize medal was acquired by the National Museums of Scotland in 1989 and is on display after the museum re-opened in 2011. The picture shows Fleming (centre) recieving the nobel prize from King Gustav V of Sweden in 1945.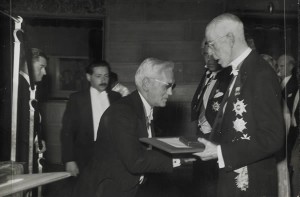 The laboratory at St Mary's Hospital where Fleming discovered penicillin is home to the Fleming Museum, a popular London attraction. His alma mater, St Mary's Hospital Medical School, merged with Imperial College London in 1988. The Sir Alexander Fleming Building on the South Kensington campus was opened in 1998 and is now one of the main preclinical teaching sites of the Imperial College School of Medicine.
His other alma mater, the Royal Polytechnic Institution (now the University of Westminster) has named one of its student halls of residence Alexander Fleming House, which is near to Old Street.
Fleming was a member of the Pontifical Academy of Sciences.
Fleming was awarded the Hunterian Professorship by the Royal College of Surgeons of England.
Fleming was knighted, as a Knight Bachelor, by king George VI in 1944.
In 1999, Time Magazine named Fleming one of the 100 Most Important People of the 20th century.
When 2000 was approaching, at least three large Swedish magazines ranked penicillin as the most important discovery of the millennium.
In 2002, Fleming was named in the BBC's list of the 100 Greatest Britons following a nationwide vote.
A statue of Alexander Fleming stands outside the main bullring in Madrid, Plaza de Toros de Las Ventas. It was erected by subscription from grateful matadors, as penicillin greatly reduced the number of deaths in the bullring.
Flemingovo náměstí is a square named after Fleming in the university area of the Dejvice community in Prague.
In mid-2009, Fleming was commemorated on a new series of banknotes issued by the Clydesdale Bank; his image appears on the new issue of £5 notes.
91006 Fleming, an asteroid in the Asteroid Belt, is named for him.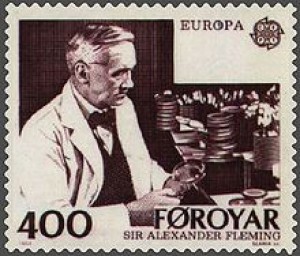 Faroe islands stam comemorating Fleming